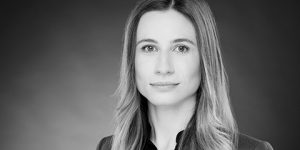 Specialist, patent attorney trainee, Master of Engineering in Environmental Engineering 
Agnieszka graduated from the Department of Environmental Engineering at the Warsaw University of Technology, majoring in Heating and Ventilation.
A member of the Polish Chamber of Civil Engineers with unlimited building license to design and for managing of construction in specialty of installations. She has many years of experience in designing and participating in realization of mechanical, cooling and heating installations in large surface commercial and industrial buildings.
In the Warsaw office of WTS Patent Attorneys Agnieszka is responsible for substantive verification of translations of patent descriptions in the process of validation of European patents before the Polish Patent Office. She specializes in matters relating to environmental engineering, mechanics and construction.
She is currently undergoing a patent attorney training at the Polish Chamber of Patent Attorneys.
She speaks English.