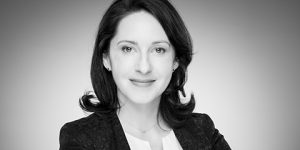 Anna is a partner at WTS Patent Attorneys, and has an MSc in both biotechnology and IP Management. She is a Polish patent attorney, and is studying to become an European Patent Attorney.
In 2002, Anna graduated with honours from Wroclaw University of Technology, Faculty of Chemistry with an MSc engineering degree in Biotechnology. In 2001/2002 she was the recipient of a research grant from the Socrates Program of the European Community for Student Mobility at the University of Ferrara in Italy, where she completed her master thesis. The research results entitled "Different approaches on rice blast disease in Italy: an in vitro assay for assessing pathogenicity of the Italian Pyriculariagrisea collection" were published in the "Journal of Plant Physiology" and presented at the VII International Mycological Congress Oslo 2002.
In 2004 Anna participated in the CEIPI/EPI training in European Patent Law organized by the University of Strasbourg and held in London. In 2005 she was granted the British Joseph Conrad Scholarship funded by The Foreign and Commonwealth Office, and enrolled in MSc studies in Management of Intellectual Property at Queen Mary College, University of London. Anna took part in the Washington Program, in courses on intellectual property law in the USA. In 2007 she completed a legal apprenticeship at the renowned law firm of Boehmert & Boehmert in Munich.
As a Polish Patent Attorney and a partner at WTS Patent Attorneys, Anna deals with the patent protection of biotechnological and pharmaceutical inventions. She is involved in the commercialization of inventions emerging from this scientific field. She also specializes in patent searches and freedom-to-operate analyses. Anna is a member of the Polish Chamber of Patent Attorneys. She is currently preparing to obtain her European Patent Attorney qualifications. She speaks English, Polish and Italian.