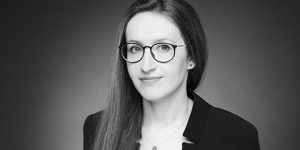 Specialist in legal affairs and administrative proceedings
An alumna of full-time doctoral studies at the Faculty of Law, Administration and Economics of the University of Wroclaw. 
She obtained her title of Doctor of Legal Studies in 2018 at the Department of Administrative Procedure and Administrative Judiciary at the University of Wrocław. Furthermore, she completed postgraduate studies at the Department of Management, Informatics and Finance at the University of Economics in Wroclaw, majoring in tax consulting and tax management. 
She has gained her professional experience both in private sector, in a law firm of attorneys-at-law, as well as in public sector: in governmental administration and in a local government. Besides her professional work, she is involved in didactics as an academic teacher. 
She started working in the WTS Patent Attorneys office in Wroclaw in May 2020. She is responsible mostly for handling substantive and legal aspects of administrative proceedings, in particular contentious proceedings. 
She speaks German and English.