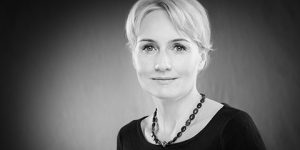 Anna is a Patent Attorney and a partner at WTS Patent Attorneys, and holds a PhD in biotechnology. As a Polish patent attorney, she specialises in the protection and commercialisation of inventions in the fields of biotechnology and pharmacy.
In 1996 she graduated with honours from the Wrocław University of Technology. Her thesis was prepared at the Department of Microbiology of the Institute of the Polish Academy of Sciences in Wrocław and concerned the molecular and genetic aspects of the identification of new pathogenic bacterial strains.
She completed with honours her PhD studies in biotechnology at the Faculty of Food Science of the University of Environmental and Life Sciences in Wrocław. During these studies she spent two years on a Government Scholarship at the Faculty of Food Science of the University of Bologna, Italy. Her research interests included molecular biology, microbiology and technology of dairy products. She participated in a two-year post-graduate diploma course organised by Centre d´Etudes Internationales de la Propriété Industrielle (CEIPI) in Rome and is currently preparing to obtain her European Patent Attorney certificate. She underwent her patent attorney application and completed the Post-graduate Industrial Property Law course at the Faculty of Law and Administration of the University of Warsaw. In 2009 she underwent a training internship at the Directorate General 1 (Search and Examination) in European Patent Office in Munich. In 2010 she took part in a training course on European and German Patent Law organized by the law and patent firm Vossius&Partner in Munich. As of 2009, she is a memeber of the Council of the Polish Chamber and International Committees of the Govering Council of Polish Patent Attorneys.
As a Polish patent attorney and partner at WTS Patent Attorneys, Anna deals with the patent protection of biotechnological inventions, especially regarding inventions originating from Polish scientific organizations. She also manages our scientific consultant and translator teams.
She speaks English, Italian and Polish.