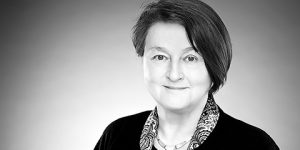 a chemist and lawyer, a very experienced Polish and European patent attorney
Ms. Malewska is a chemist and lawyer, a very experienced Polish and European patent attorney, in private practice for nearly thirty years. She also has the right to appear before the European Union Intellectual Property Office (EUIPO).
Ms. Malewska, is a patent attorney with a comprehensive patent expertise encompassing counseling, conducting domestic and European patent prosecution, disputes, and transactions. She has advised various entities form start-ups and scientific organizations to big-pharma and multinational chemical industry companies.
The counseling side of Ms. Malewska practice includes advising on patent strategy, preparing patent portfolio analysis and patent clearance opinions, and optimizing patent protection.
In the transactional side of her practice, Ms. Malewska negotiates and drafts patent licenses for domestic scientific organizations, advises clients on patent issues in commercial agreements, and conducts portfolio analysis. Her experience with disputes includes representing clients in patent infringement and invalidation proceedings.
At WTS Patent Attorneys she specializes in protecting inventions in the field of chemistry, pharmacy, biotechnology, electrochemistry, as well as in developing patent strategies, and handling disputes.
She graduated from the Faculty of Chemistry at the University of Warsaw, Faculty of Law and Administration at the University of Warsaw (cum laude), Centre for International Intellectual Property Studies (CEIPI) at the University of Strasbourg, and postgraduate studies of Industrial Property Law at the Adam Mickiewicz University in Poznań.
Ms. Malewska is a member of the Polish Chamber of Patent Attorneys and the Vice President of the Patent Attorneys Association.
She speaks Polish, English and Russian.