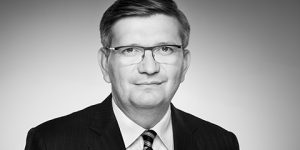 Rafał is a partner and co-founder of WTS Patent Attorneys, with a MSc in biotechnology, as well as a Polish and European patent attorney, UPC representative, specialising in the protection and commercialisation of inventions in the fields of biotechnology and pharmacy.
He obtained his degree in biotechnology from the Wrocław University of Technology in 1996. In 1996-97 he participated in a postgraduate studies on industrial property protection at Humboldt University in Berlin. In 2003 he obtained a Max-Planck Foundation scholarship for a research stay at the Max-Planck Institute of Industrial Property Protection and Tax Law in Munich. Rafał became a certified Polish patent attorney in 1999 and a European patent attorney in 2004.
He acquired his initial professional experience at the Office for Patent Protection of the Wrocław University of Technology (1997) and at the largest Polish office for industrial property protection (1998-2002), as a patent attorney responsible for biotechnological and pharmaceutical inventions.
As a co-founding partner of WTS Patent Attorneys, he has specialised in legal advice relating to the identification of and minimizing patent risks inherent in the market entry of pharmaceuticals. He has conducted many court processes before the Polish Patent Office and civil courts, in cases concerning patent invalidation as well as matters concerning their infringement.
Moreover, he is a consultant for the protection and commercialisation of intellectual property for many public and private scientific organisations in Poland. He advises and aids in the development of several biotechnological companies.
He was a co-author of the industrial property teaching course of the University of Warsaw. Rafał was the initiator of the Lower Silesia Patent Centre as well as the Mazovian Patent Centre (in collaboration with the FIRE foundation). Both these initiatives were financed by EU funds as well as the Foundation for Polish Science. The goal of these centres was to provide free legal aid to scientists interested in the commercialisation of their research. He was a consultant for the team designing the project "PATENT PLUS – support for patenting inventions" of the Polish Ministry of Science and Higher Education. He is also the author of many publications relating to this area, addressed to Polish scientists and entrepreneurs, as well as being a frequent speaker at conferences and seminars.
Rafał is a member of the Polish Chamber of Patent Attorneys, where he actively participates in the work of the Audit Committee, a member of the Institute of European Patent Attorneys, an associate member of the EPI Committee on Biotechnological inventions and a former President of the LES Poland. He is also a member of AIPPI, FICPI, Union-IP and EPLIT.
He speaks German, English and Polish and has a basic understanding of Russian.
In 2021, Polish Prime Minister granted him the badge of honor "For the Merits in Inventiveness".